Outdoor Kitchen Installation Service in Omaha, Elkhorn, Papillion, NE & Surrounding Cities
We can create a custom design from scratch to meet your vision for your outdoor kitchen.
If you want to install an outdoor kitchen on your property, you've come to the right place! Our team at Clear Creek Landscapes can create a custom design from scratch to meet your vision and construct the outdoor kitchen of your dreams. Then, we can complete it with your desired amenities to make it functional, including a grill, refrigerator, drawers, and more. You can also go the extra mile and bring your outdoor kitchen to life at night with our landscape lighting service!
Our outdoor kitchen installation service is available to residential and commercial properties and HOAs in Omaha, Elkhorn, Papillion, and other surrounding areas in Nebraska. Call us at (402) 677-7652 to schedule a consultation!
---
We Design & Install Custom Outdoor Kitchens
When investing in an outdoor kitchen, you want the result to align with your vision and needs. Fortunately, that's just what our team will do! We design and install custom outdoor kitchens, meaning we'll create everything from scratch. We start by sitting down with you and listening to what you want from this new feature. Then, we will work with you to design a layout and use materials that meet all your functional and aesthetic preferences. This way, you will have a beautiful outdoor kitchen that allows you to cook and entertain guests outside.
We construct our outdoor kitchens from highly durable, long-lasting blocks, though we can also cap them with a stone veneer to enhance their aesthetics.
---
What amenities can we add to your outdoor kitchen?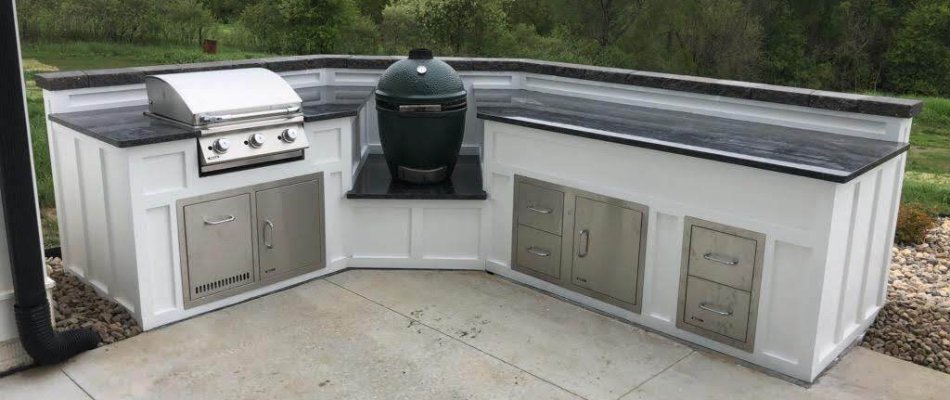 The benefits of having an outdoor kitchen as functional as your indoor one are nearly endless, and we can add various amenities to yours to make that happen. You can choose which features you want it to include to suit your specific needs and allow you to maximize your investment! For example, some popular ones we offer are grills, drawers, refrigerators, ice makers, and bars. We'll also ensure your outdoor kitchen is equipped with electrical, water, and gas so you can get the most out of it.
---
Bring Your Outdoor Kitchen to Life at Night With Our Landscape Lighting Service
While you can enjoy your outdoor kitchen during the day, what about at night? If you want to continue to use it even after the sun goes down, then our landscape lighting service is just what you need. We use low-voltage LED lighting to bring it to life, as it'll last year after year without skyrocketing your electric bill. Additionally, we offer systems with Bluetooth compatibility, meaning you can control yours from your smartphone and do anything from changing their colors and brightness to setting timers so that they automatically turn on and off. With landscape lighting, you can highlight the beauty of your outdoor kitchen and make it functional even at night.
---
Call us today to schedule our outdoor kitchen installation service.
It's time to elevate your outside area and increase its functionality with an outdoor kitchen! At Clear Creek Landscapes, we offer our outdoor kitchen installation service to commercial and residential properties, as well as HOAs, in Omaha, Elkhorn, Papillion, NE, and throughout the nearby areas. With our team, you can trust that we have the skills and expertise to design and construct an outdoor kitchen tailored to your property and needs. Call us at (402) 677-7652 to schedule our outdoor kitchen installation service today and get started on bringing your dream feature to fruition!