We offer landscaping services to homes, businesses, and HOAs in Omaha, NE.
Our services include hardscape installations, plantings and softscapes, landscaping, and more!
Omaha, NE, is a thriving city located along the Missouri River and has a population of more than 487,000. Henry Doorly Zoo and Aquarium, one of the best zoos in the world, is located here. This zoo features the largest indoor desert in the world and the largest indoor rainforest in North America! There are also various museums in the city, like the Joslyn Art Museum and the Durham Museum, where you can discover unique art pieces and important historical collections.
Our team at Clear Creek Landscapes proudly provides our landscaping services for homes, businesses, and HOAs in Omaha, NE, and has been since 2006. We are experts at upgrading outdoor living spaces through landscape design, hardscape installation, plantings and softscapes, landscape lighting, and other services.
---
Our landscaping services include landscape design, landscape lighting, landscape bed cleanups, and more.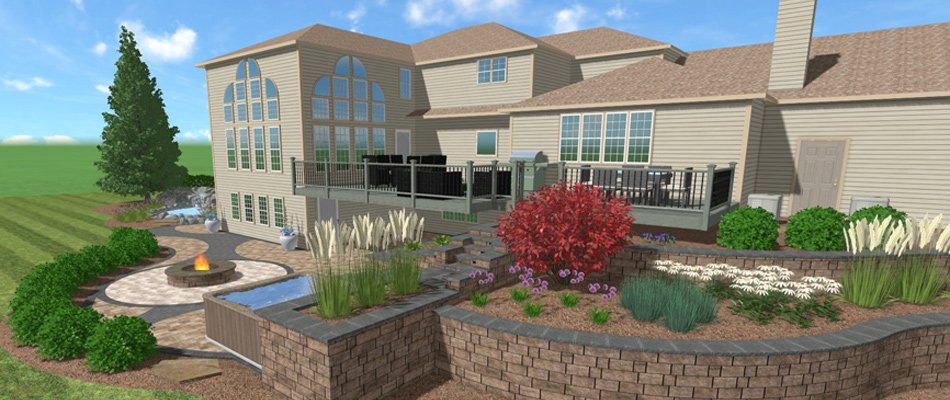 If you want to spruce up the aesthetics of your yard, our landscaping services will deliver that. We offer a variety of landscaping services designed to enhance the appearance of your property in Omaha, NE, so it looks its best all year long.
Landscape Design & Rendering: Our crew can create a 2D or 3D design rendering to show how your finished landscape project will look before we begin the installation.
Plantings & Softscapes: We can do new installations and renovations to ensure your landscape beds look their best throughout the year. We also offer various plant options to add pops of color to your landscape.
Landscape Lighting: We will illuminate your property in Omaha and highlight your landscape's best features by installing low-voltage LED lights.
Landscape Bed Cleanup: This service includes trimming shrubs, replenishing mulch, getting rid of debris and dead plant materials, and edging your landscape beds.
Leaf Removal: We'll eliminate the piles of leaves in your yard and haul them off your property.
Mulch & Rock Installation: We'll install a mulch or rock ground cover in your landscape beds to keep them looking great and your plants protected from harsh conditions.
Trimming & Pruning: Our team will trim and prune your plants when necessary to maintain their tip-top health and appearance.
Artificial Turf: This service involves installing artificial turf on your property to give you a beautiful lawn without all the maintenance required for authentic grass.
Commercial Snow Removal: We'll remove snow from high-traffic areas on your business property, like sidewalks, entrances, and parking lots so you, your customers, and your staff can easily reach your front door!
We can install outdoor lighting displays that are Bluetooth-compatible so you can control them through your phone!
---
Elevate your outdoor living space with our hardscaping services.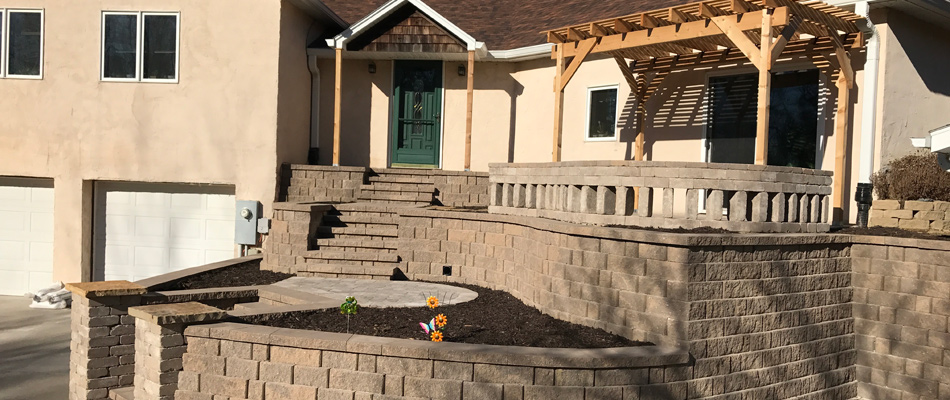 Our team offers hardscaping services that not only add beauty to your outdoor living space but also increase its functionality. Learn more about our hardscaping services below:
Patios: Our team builds patios using pavers made from concrete, flagstone, porcelain tiles, clay, and natural stone.
Walkways: We'll make navigating around your outdoor space in Omaha, NE, easier by installing sturdy walkways.
Driveways: Our driveways are made with beautiful and durable materials to help boost your property's curb appeal!
Outdoor Steps: We install outdoor steps to connect areas on your property with different elevations.
Outdoor Kitchens: Elevate your outdoor living space by allowing us to install a custom or kit-built outdoor kitchen!
Building Construction: This service involves installing roof extensions, pergolas, cabanas, pavilions, and gazebos.
Water Features: We can help make your outdoor area more serene by installing water features like waterfalls, bubblers, and more.
Fire Features: Our team can install fire pits and outdoor fireplaces that can be either gas, propane, or wood-burning.
Retaining Walls: If your property in Omaha is on a slope, we'll build a retaining wall to level your land and give you more usable space.
Seating Walls: We can add seating walls to provide extra seating for your outdoor area while helping elevate its aesthetics.
Deck Installation: If you're in the market for a top-tier deck installation, take advantage of our wood or composite decks!
---
Call us today to get an estimate on our landscaping services.
Our team at Clear Creek Landscapes is in the business of improving outdoor living spaces so our clients can fully utilize their property and take pride in its appearance. We offer professional landscaping services to commercial and residential properties and HOAs in Omaha, NE. If you want to make yours stand out, call us today at (402) 677-7652 to get an estimate on any of our landscaping services.