So far in our landscaping style spotlight series, we've covered some of the most popular landscaping styles: rustic, modern, traditional, and natural. While all are easily adaptable to our Nebraska climate, there are a few off-the-beaten-path styles that are worth mentioning, too.  
Although less common and difficult to fully emulate because of our climate zone (5b), there are ways to incorporate elements of the following designs into your outdoor living space. 
Specialty Landscaping Style: Japanese
The minimalist beauty of Asian culture is often sought after for its calming aesthetic. Well-suited for a modern home design, there are a multitude of ways to give a nod to Japanese garden design. 
How we achieve it:  
Plant Japanese maples, which are believed to signify blessings, peace, beauty, and survival 

 

Landscape with rich green Hosta, bamboo, and ornamental cherry trees

 

Add a modern, minimalist water feature

 
Specialty Landscaping Style:
Tropical
If some of your fondest memories include time spent on the beach, you can bring that aesthetic to your own backyard landscaping (and make every day feel a bit more like a vacation).  
How we achieve it: 
Incorporate tropical plants, such as birds of paradise, cannas, and hibiscus

 

Build a pergola shade structure in teak

 

Accessorize a covered patio with breezy linens and brightly colored pots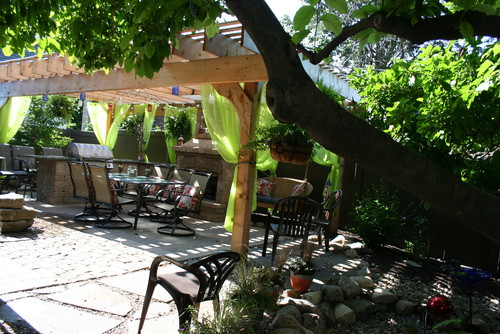 Specialty Landscaping Style:
Xeriscape
Xeriscape, which means dry landscaping, is considered environmentally friendly because it uses plants that require less water. True xeriscape landscaping design can be found in desert climates, but certain elements can be applied here. 
How we achieve it: 
Plant drought-tolerant trees, shrubs, and perennials that don't require extra watering

 

Create large landscaping beds that reduce the amount of grass in your yard

 

Lean into desert-inspired design with the use of rock, succulents, and neutral colors

 
Specialty Landscaping Style:
English
Nebraska's climate is amenable to many of the flowers that make English gardens so beautiful. However, keep in mind that roses, which can be fussy and high maintenance, are a hallmark of English design. This landscaping style may be more favorable for experienced gardeners who have the patience and knowledge to dedicate themselves to rose maintenance.  
How we achieve it: 
Plant boxwoods, and keep them neatly manicured

 

Use a variety of roses in traditional colors

 

Build a pond into your landscaping

 

 
If you're ready to discuss your landscaping project, we are booking for spring. You can easily schedule an appointment online with one of our landscaping contractors or give us a call at 402-677-7652. We can't wait to create beautiful spaces with you in 2023!