Last week on the blog, we looked at outdoor kitchen staples and trends that can maximize the enjoyment of your outdoor living space. This week, we're taking a deeper look into the nuts and bolts of the design process in order to help you make the right decisions based on your home and style.
Think about what you need to have and what you want to have. What's important to another family may be more or less important to you. Browsing our project gallery can give you an idea of the types of designs that are possible.
---
Don't know what you want? That's okay, we can help you dream.. Our landscape designers will walk with you in person, through your outdoor space and help you imagine the possibilities.
A few thought-starters to consider:
Are you using the space to cook only, or will you also want to use the space to entertain and do more?
Do you need space for serving? Additional seating for entertaining? Will you need sit-down eating space, or is casual grazing more your style?
What type of storage do you need? Will you keep tools indoors, or do you want to store everything outdoors?
Will you want part of the space covered or shaded?
Have you thought about all entertainments options to enhance your outdoor kitchen like outdoor TV, outdoor audio, landscape lighting, etc.
---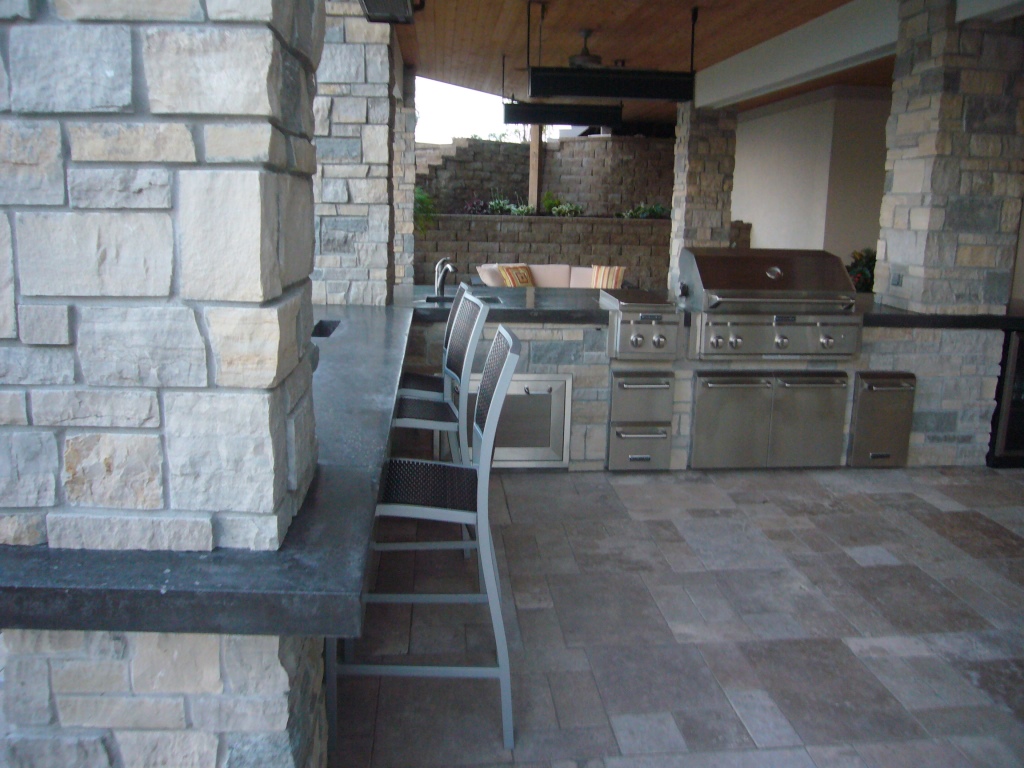 As far as materials, we recommend granite for the countertops, as it is best equipped to withstand the elements. We do not recommend installing outdoor sinks with running water or drains due to the cold Nebraska winters and the plumbing considerations needed for the drain. However, many of our clients incorporate an outdoor refrigerator in their space, which is engineered to withstand the freezing temps.
The "facing" material can be a veneer stone made of Brick, Natural Stone (preferred if choosing veneer) or Cultured Stone. Lower cost options would be a Decorative Block and some siding board options. Depending on the type of decorative facing materials you choose along with the placement of the kitchen compared to other structural elements, will determine the footing or foundation requirement as well as how we build the structure for support.
Extend how long you enjoy your seasons throughout the year by having a well-built, uniquely designed, fully equipped outdoor kitchen space that is customized to your taste and needs will make your outdoor cooking immensely enjoyable – no matter what time of year or type of weather you're facing!
Clear Creek Landscaping is an Omaha landscaping company comprised of experienced landscape design professionals. Whether you're looking for backyard design in Omaha, an Omaha patio builder, an Omaha paver patio designer, or custom landscape design in Omaha, the team at Clear Creek Landscaping has the experience and knowledge to handle it all.